Fabio's NY Pizza has partnered with Attractions to help local schools, churches, and civic organizations meet their fundraising goals.
"Mike and Jason welcome you!"
Purchase your copy of the Attractions Dining and Value Guide today to receive these coupons from Fabio's NY Pizza: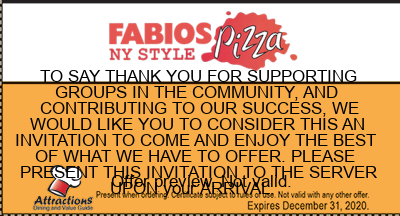 TO SAY THANK YOU FOR SUPPORTING GROUPS IN THE COMMUNITY, AND CONTRIBUTING TO OUR SUCCESS, WE WOULD LIKE YOU TO CONSIDER THIS AN INVITATION TO COME AND ENJOY THE BEST OF WHAT WE HAVE TO OFFER. PLEASE PRESENT THIS INVITATION TO THE SERVER UPON your ARRIVAL.
---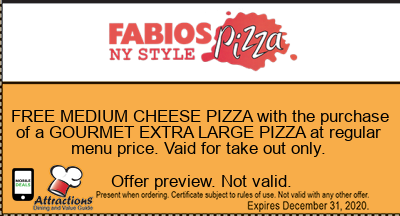 FREE MEDIUM CHEESE PIZZA with the purchase of a GOURMET EXTRA LARGE PIZZA at regular menu price. Vaid for take out only.
---
1551 East High Street
Charlottesville, VA
434-872-0070
Look for valuable coupons valid at Fabio's NY Pizza and other restaurants and retailers in Charlottesville, VA, in the Attractions Dining and Value Guide!
Fundraise with the best! Your group can sell the community fundraiser, the Attractions Coupon Book, supported by Fabio's NY Pizza.